News and Articles
July 2003
The Daily Home Talladega, Sylacauga-Pell City, Alabama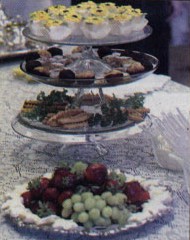 The taking of tea...and etiquette
Sylacauga girls learn the ins and outs of tea time
By Laura Nation, Daily Home features editor
Millie Chastain has an endearing way of delivering the dos and don'ts of taking tea. She wouldn't dare let anyone feel inadequate for not knowing the etiquette involved.
But after all, it's her specialty to make sure manners always come first in the etiquette classes she offers through The Protocol School of Alabama, which Chastain started in Talladega two years ago.
On a hot July morning, Chastain is speaking to 12 young ladies from Sylacauga's Girl Scout Troop 223 at Talladega's First Presbyterian Church, who are learning how to handle themselves while having tea with company.
Chastain is wrapping up the two-hour long session, offering a review of the material the girls have covered before their mothers arrive to see what their daughters have learned.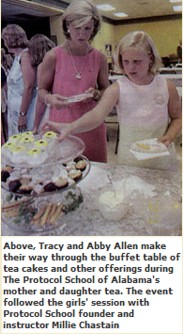 The mothers and daughters will have tea together, and Chastain has put out an impressive array of tea cakes and petit fours, sandwiches and cookies all part of the practice of having tea.
"Do we look over our cup when we're drinking tea," Chastain asks. "And which goes first-the jam or the cream, when you're having scones?"
A little shy to answer, the girls await Chastain's responses.
She smiles and reminds them that looking into your cup while drinking is what people of etiquette would do, and that the jam always goes first before adding cream to a scone.
The girls learn, too, that having tea doesn't have to mean having hot tea, and Chastain tells them she's provided for both options "since it's 160 degrees outside today" The girls giggle and revisit the rules some more.
Chastain tells them not to forget that silverware is use only for eating not gesturing, and to remember that talking about one's personal dislikes isn't considered good manners, either.
"Should we squeeze the lemon into our cup?" Chastain asks.
The girls agree "no," and prepare for another part of the session Chastain has instructed them in. As their mothers arrive for tea, the girls will introduce them to Chastain using the etiquette the group learned earlier that day.
And one by one, each girl easily fulfills the task, with Chastain offering hearty congratulations for their success.
In completing the session, the girls receive certification in tea and etiquette from The Protocol School of Alabama, and also a collection of Chastain's favorite recipes to serve for tea.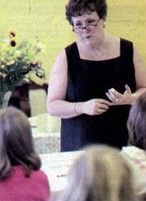 Chastain offers etiquette classes for all ages with topics ranging from dining out to their everyday business of making introductions and answering the telephone. The Winterboro resident started the school two years ago, following a career as a home economics teacher. For her sessions on tea and etiquette, Chastain makes many of intricate sweets she serves and sends graduates home a cookbook of favorite recipes. Chastain delivers her advice using a modern approach that appeals to youngsters interested in making good impressions.