News and Articles
May 2002
The Daily Home Talladega, Sylacauga-Pell City, Alabama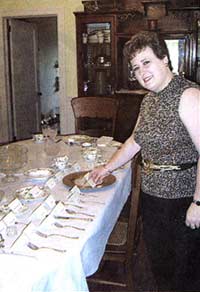 Manners matter in most situations
Etiquette camps for youngsters to teach social skills
By Laura Nation, Daily Home features editor
Millie Chastain does not think people have really forgotten manners, but maybe manners have taken a back seat in a hurried world.
"Ours has become a rush, rush world, but we still need to have the skills of etiquette," she said. "Even out on the soccer field."
Chastain's 30 years experience in teaching home economics and life skills, along with her inherent love for young people have delivered her a new calling. Chastain has established The Protocol School of Alabama, and begins three sessions of Everyday Etiquette for Children next month.
Each Children's Etiquette Camp will last three days, with students age eight through 12 meeting together in two sessions, and a session to itself for teenagers.
The sessions are limited to 15 in each, and will last from 9 a.m. until noon at the Welch-Coleman Ballroom on Talladega's downtown square.
The camp for teens will meet June 10-12, and the two sessions for younger students meet June 3-5 and June 17-19.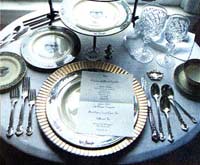 Sessions will cover many the everyday situations young peolpe may find themselves in, such as how to handle eating utensils that outnumber the fingers on your hand, what to say and what not to say on the telephone, and the simple matter of how to indroduce yourself.
Chastain is a recent graduate of The Protocol School of Washington, where instructor Dorothea Johnson has also trained members of the U.S. Diplomatic Corps.
Chastain readily admits she wasn't doing everything quite the way Johnson prefers.
"Some things were different, I wasn't doing them the way she said was correct," she said. "But that's why I went."
Once young people have an understanding of manners they need to know, Chastain say they become a tool for life.
"There are job and college interviews in their future, and we only get one chance in those situations to make the impression we want to make." she said. "It helps a great deal with self-esteem and leadership skills, too."
Chastain says she believes in making the sessions for youth fun, and encourages children to have a good time with each other while learning.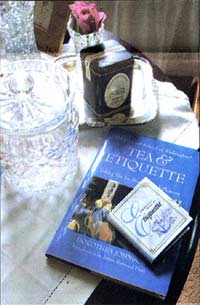 Children in the camps will practice what they learn on each other, and on the final day of camp, have a tutorial lunch a Armagost Restaurant, along with the experience of meeting Chef Brian Armagost himself.
Chastain will explain invitations and how to respond to them properly, etiquette for public places such as in theaters or even elevators, and the best ways to put others at ease in just about any situation.
She herself attended what was called "charm school" when she was growing up in Tupelo, Miss., and says she doesn't think of herself as "Mrs. Ballard, the stately, white haired lady who taught it. I can't imagine." Helping young people understand that manners do matter is an endeavor Chastain gets excited about.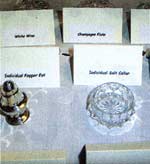 "I really believe it can be fun for them, but also, that this can mean survival for them, too," she said.
"Whether it's learning how to be a good sport, or how to conduct yourself in a meeting. These are the skills that can open doors for you."
Chastain also offers seminars for adults, interactive classes and private instruction. She may be reached at (256)362-3355 or mchastain@protocolschoolofalabama. Chastain will soon have a web site.